Social media is the place to be nowadays for real estate agents. In the past, the industry highly relied on traditional marketing and telemarketing and became fully and officially online.
According to a recent study by the NAR, 77% of realtors use social media in their marketing, and 47% of them noted that social media generate the highest quality of leads compared to other sources.
Agents use social media to generate leads, showcase their listings, and grow their sales, but with the opportunities, the competition has grown, and using social media just to post information about your listing is not enough anymore.
So what should you do? Here's the complete guide to boost your real estate social media marketing in 2022:
1. Promote the area

House is not only about what's inside. It's highly affected by its surroundings. Homebuyers consider and want to know more about the street, the neighborhood, and the city.
Usually, people would rather stay away from a house if the neighborhood has a terrible reputation, distanced school for their children, or a high traffic area, even if the property itself is great.
Use your social media to provide your clients with the benefits of the place they are about to live, not just with basic statistics they can read on Zillow. Tell them a story, let them know what's good.
Remember – people are social beings, and they live in communities – emphasize the community.
2. Go live on open houses and tours
Real estate is inherently a visual thing. 85% of buyers and sellers prefer working with agents who use videos.
Go live on Facebook, Instagram, and TikTok and talk to your audience in real-time. It will put you in front of your audience and help you interact with them directly, engage, and develop relationships.
Give your followers a live home tour, show them the benefits of the property and answer their questions.
Additionally, you can use those lives later and promote them on your ads and posts.
The business is you, and the product is the property, and what better than combining them?
3. Use more video content
With the rise of social media networks, especially TikTok & Instagram, video is becoming more popular and influential in marketing, especially real estate.
Video marketing will help you increase your visibility, engage more with your audience and present yourself and your listings.
Here's an example of an excellent listing home tour:
Video marketing can come in many ways:
Use professional videos to feature your property facilities, interiors, and amenities.
Hire a drone expert, create a fly-through video, and show your property and the neighborhood – it will impress both your buyers and sellers.
Here's a great video that incorporates drone fly-through shots:
4. Engage with customers
Social media is all about engagements. Social media algorithms, especially Facebook, favor posts that get a lot of engagement.
Get your followers engaged by asking them questions and creating polls and surveys. Hearing your followers will help you to understand the market better.
Respond to every comment or message you receive, even the bad ones. It is an excellent opportunity to show your personal qualities, and every customer service knows that a complaining client is a client who cares.
Answer their questions. It's your time to show you are professional and understand every aspect of the business. Potential clients will remember it when they need an agent in the future.
5. Share success stories and client testimonials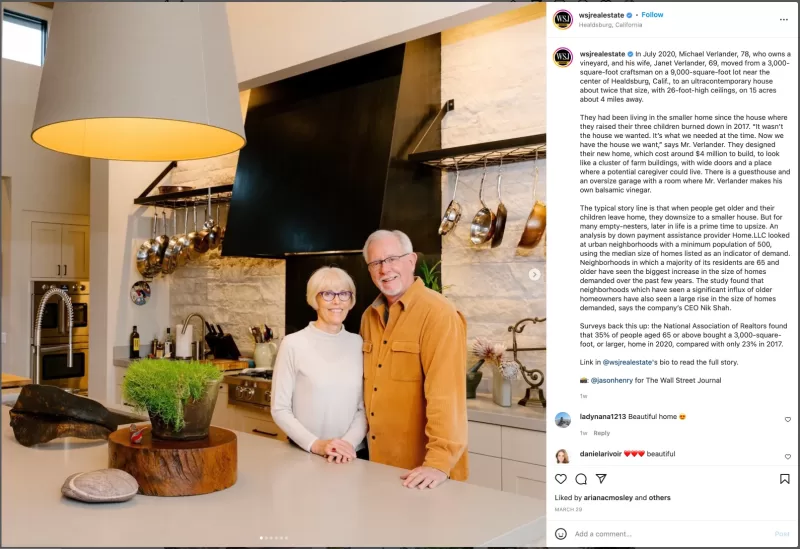 62% of online homebuyers noted to they are more likely to contact an agent with great reviews. Nothing builds trust and confidence in customers like success stories and testimonials.
When people hire your service, they do it because they believe you can achieve success, and what's better than showing proof?
Ask your clients for testimonials after successful deals, use video is possible or their pictures to increase the authenticity, tag them and encourage them to be as specific and detailed as they can.
If you find it hard to collect reviews, you can offer discounts or gifts to encourage them.
Once you acquire those great reviews, share them, write your view on the post, and even promote them with paid ads, client testimonials significantly impact lead conversions.
6. Use paid ads to get more engagement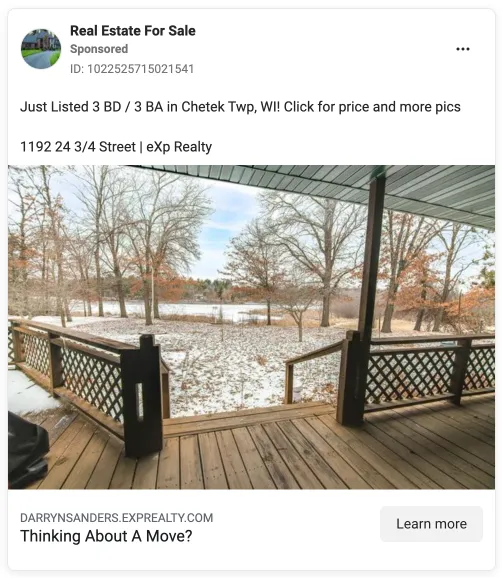 Facebook (and Instagram) can be a great asset, especially when you are just starting and your followers' community is small and can help you as a kickstart.
Facebook advertising platform offers fantastic targeting options for real estate agents: locations, interests, and many more.
Use them wisely and think of your buyer persona characteristics before.
Paid advertising will help you get more engagement and more leads and increase your posts' magnitude, don't be afraid of it. Paid advertising can have a massive impact on your brand, with impressive conversion rates of 1-1.5%.
Ads can focus on generating leads, advertising listings, gaining followers, and growing your brand. It doesn't have to be a complex task, there a platforms that will help you do it in no time.
Make sure your ad copy is attractive and relevant. If possible, use an existing post with likes and comments, use visual elements (especially videos) to draw your audience's attention, and don't focus on listings only. Client testimonials and other educational posts can be good as well.
7. Keep in touch with previous clients
Real estate is all about people.
According to the 2021 NAR report, 68% of sellers found their agent through a referral. Social proof.
Using social media is to acquire new clients and maintain relationships with existing ones, and it's much easier.
Keeping in touch with them will help those clients remember you when they decide to move again and when they ask to recommend an agent to their relatives.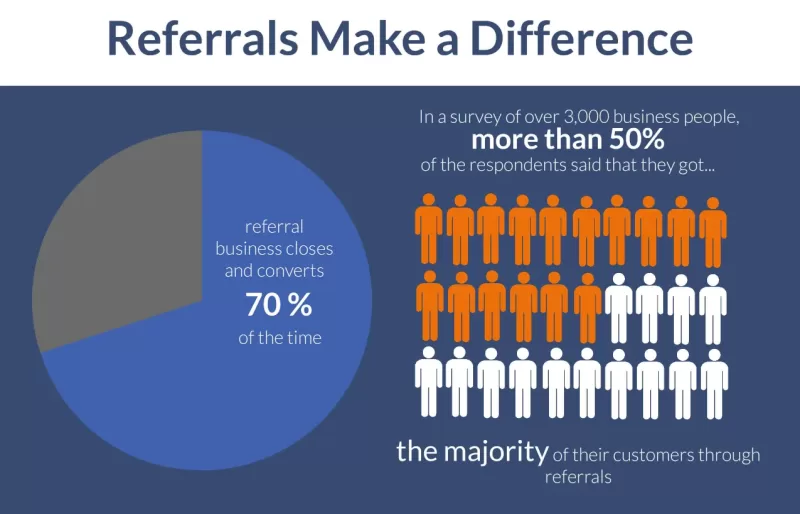 Invite your previous clients to follow you on social media and publish content related to new homebuyers that will inspire them. Publish news & recommendations about their local community. This way, you can stay relevant to them even after the purchase.
You'll find out shortly how sometimes they even respond to interesting clients on comments and how they are happy to recommend you even to strangers.
8. Stay consistent with your branding
Branding is all about consistency. Your logo, brand colors, slogan, headshots – everything impacts your brand.
When you build your social media profiles, your goal is to recognize your brand quickly, and you want them to naturally identify your profiles and website without confusion.
Keep your branding consistent on every platform you use to communicate, Facebook, TikTok, your website, and even Promotional emails.
Think of Remax as an example, you don't need more than the blue & red colors or their hot air balloon to know it's them, and you want the same brand recognition for your brand.
It doesn't have to be so costly, you just need to stay consistent.
In addition, make sure you always have links to your social media profiles and website on everything you post online, people who like your content are more likely to follow you on other social platforms. You can move followers from one platform to another.
9. Address & publish industry and market news
Part of your branding is your professionalism and authority. Writing and sharing content about the real estate market, in general, will improve your authority score among potential clients. It will show them that real estate is your passion, and they will remember it in the future.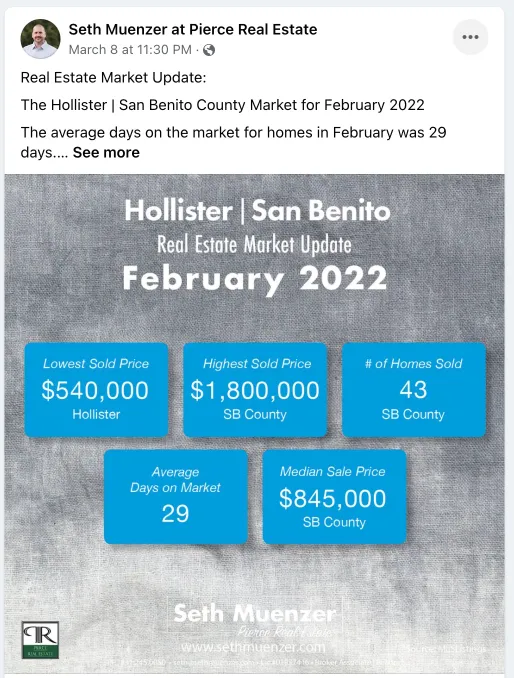 Finding news about the real estate market shouldn't be a complex task. This industry is enormous and evolving all the time, and you can post about market news, government-related rules and actions, and annual reports about the market.
10. Share Educational Posts
Although the real estate agent's job is mainly about leads and sales, don't forget that social media is, first and foremost, about socializing.
People want to learn new things, read the news, and talk with others.
Educational posts, guides, tips, and DIY are great content and are usually very popular. It will help you increase your authority, give your customers value, make them engage and respond, and highlight your expertise.
Here are a few examples:
.   
11. Save time & Schedule posts
The real estate agent is a time-consuming job, even without the time you invest in social media.
Investing on multiple social media platforms at once can be complex and overwhelming, and if you don't automate some of your work, profiles get abandoned, and it can harm your brand.
The right way to manage your social media is by scheduling tools to help you plan, upload photos, and schedule your content in advance. This way, you can dedicate only a few hours, once a week, to the entire task.

(Credit: Later.com)
You can even post the same content through multiple platforms to keep your content consistent.
Use scheduling tools and save your valuable time on other tasks and be more efficient and more productive.
12. Post at the right time of day
"If a tree falls in a forest and no one is around to hear it, does it make a sound?"
Having great content is good, but it's not always enough. You want to maximize your results and reach as many people as possible.
Learn the best time to post your social media content across the different platforms and make sure your schedule it on the right time and day, according to sproutsocial:
Facebook
Best times: Tuesday, Wednesday, and Friday 9 a.m.–1 p.m.
Best days: Tuesday, Wednesday, Friday
Worst day: Saturday
Instagram
Best times: Tuesday 11 a.m.–2 p.m., Monday through Friday 11 a.m.
Best day: Tuesday
Worst day: Sunday
Twitter
Best times: Wednesday 9 a.m.– 3 p.m., Tuesday and Thursday 9–11 a.m.
Best day: Wednesday
Worst day: Saturday
LinkedIn
Best times: Tuesday and Thursday 9 a.m.–noon, Wednesday 9 a.m.–2 p.m.
Best days: Tuesday, Wednesday, Thursday
Worst day: Sunday
13. Use insights to measure and improve
Building a successful brand and a working marketing strategy takes time and consistency. Try to improve all the time and don't settle for a strategy that isn't effective and wasting your time and money.
Test and measure your results every week and tweak them whenever necessary.
Luckily, social media platforms provide you with data and insights about your overall performance.
(Credit: Later.com)
See what posts and what content is getting the most likes, comments, or shares.
Try to figure out what was the reason for that:
Was it a video or image?
Did I use the proper wording?
What was the type of content? Educational? Listing promotion? News?
Was it the right time and day?
Is this content is the right content for this platform?
You can also see about your audience Age, Gender, Locations
Those insights will help you get better, and by testing and measuring, you'll see your strategy get more effective in time.
14. Share content & news about local areas
As we mentioned before, people buy houses in a community. Potential clients viewing your listings are more likely to be from the same place or they looking into moving there.
Sharing content about the local area can show your potential clients understand real estate and know the area. You can share your insights and show them aspects of the place they are moving into. It will make them more confident, in both you and the area.
15. Pin more on Pinterest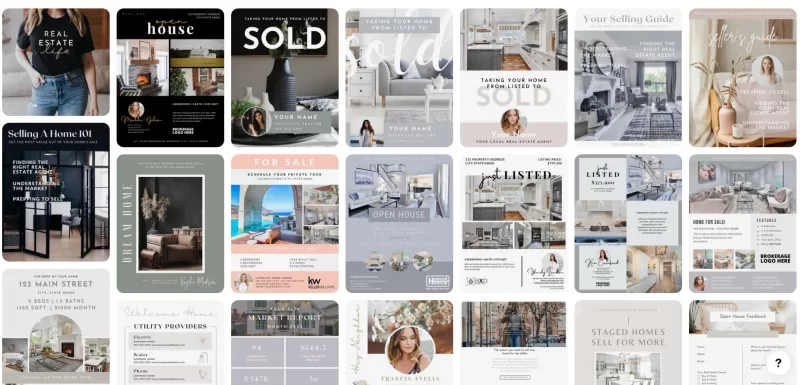 Real estate is a visual business; Pinterest is a visual platform – it's a natural connection.
People usually start their home searching by searching for inspiration, and there's no better platform for inspiration than Pinterest.
Start your Pinterest real estate marketing by pinning photos from properties you have for sale. Use your best images. Vertical ones are the best and have the most engagement, and add the listing webpage as a URL.
Unlike other social platforms, Pinterest is a bit tough with gaming followers. Therefore, in the beginning, consider using group boards with high followers amount to get higher engagement.
16. Use hashtags
Hashtags are a great tool to gain exposure and improve the brand awareness on social platforms, especially Instagram and Twitter.
They can be found on search and expose your content to a larger audience and help you see better results in terms of engagement.
Hashtags also give social media the context of your post and can help your posts reach an audience that is interested in the topic.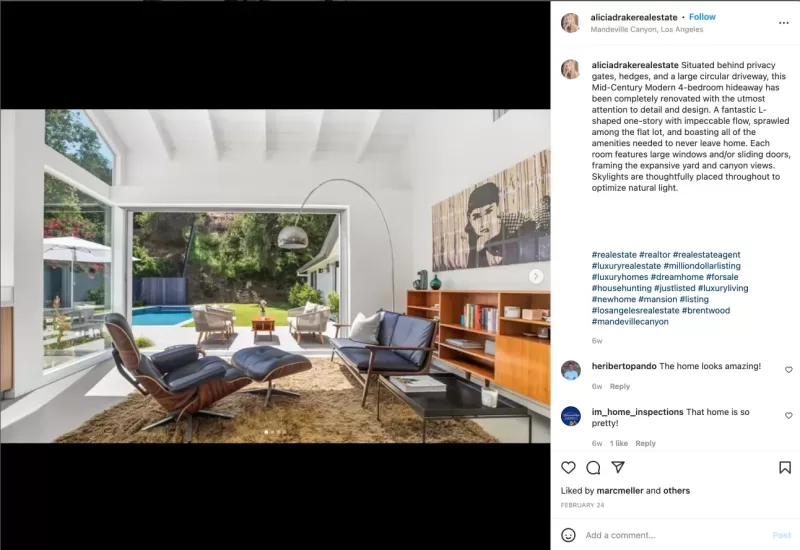 The first type of hashtags is generic hashtags, #ForSale, #JustListed or any other real estate basic terms.
Try to look for those that aren't overused, and look for the ones that have exposure but are not too big because your post will get lost in there – algorithms tend to favor big brands and profiles with a higher amount of followers and put them on top.
The second type of hashtag is branded hashtags, such as your slogan. At the start, they can be a bit slow, but if they are catchy and used at the right time, they can help your branding.
Can't find the right hashtags, here's a list that can help you start.
17. Incorporate quotes in your posts
Real estate quotes can be great content and funny, inspirational, or educational.
That's another way to diversify your content, and you can use them on regular posts if they are related and as stand-alone posts.
Here's a list of famous real estate quotes you can use on your social media posts.
18. Be Personable
In marketing, and especially real estate marketing, building your buyer persona is a crucial thing. It can affect your entire branding, the way you write or talk, the way you dress, the colors, and almost everything related to your marketing.
It may seem nice to try to speak to everyone, but usually, by speaking everyone's language, you are talking to no one.
Try to understand what speaks to your potential clients. What makes them moved, their motives, and how can you attract and excite them.
Parks, schools, and playgrounds can attract young families, and bars, restaurants, and clubs can attract single people.
In the begging, try and test to figure out what works and what sounds appealing to your audience.